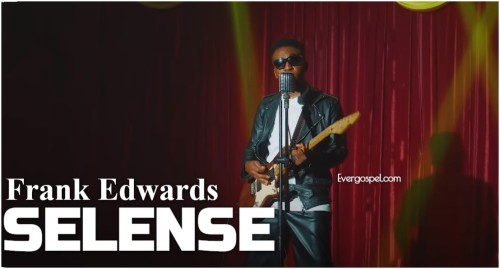 The Nigerian Christian music minister "Frank Edwards" who is also a praise worship leader comes through with a powerful and beautiful praise worship song titled "Selense". His songs has always been a blessing to lives, and here's another power packed tune.
Download Selense by Frank Edwards Mp3, Lyrics & Video
Click To Download More Of FRANK EDWARS Songs Here
If You're a lover of good and great Gospel/Christian music, be it Afro Gospel or contemporary tune, then this song "Selense" is a beautiful song that should lift your soul.
You May Also Like:
The song "Selense" is a melody and tune that was written due to inspiration by the Holy Ghost, as this song was made to bless lives and build your faith in Christ the Lord. The beautiful lyrics, vocals, energy, and inspirations used in birthing this song will thrill you.
[Chorus]
Everywhere you Go
You go dey SELENSE
Baba God dey for you
No dey Kpariwo
Aka Chineke E dey for your Matter
My Brother Carry Go
My Sister Carry Go
Everywhere you Go
You go dey SELENSE
Baba God dey for you
No dey Kpariwo
Aka Chineke E dey for your Matter
My Brother Carry Go
My Sister Carry Go
Everywhere you Go
You go dey SELENSE
Baba God dey for you
No dey Kpariwo
Aka Chineke E dey for your Matter
My Brother Carry Go
My Sister Carry Go
[VERSE 1]
If you dey Cry
Make you Cry No More
If you dey Run
Make you Run No More
Baba God dey for You
No Shaking, No Shaking
No Shaking, Yeah
He put your sin on His Shoulder
He Paid the Price
Your GBESE do Settle.
Don't you Worry, don't you Worry.
No Dey KPARIWO
[PRE – CHORUS]
Your Protector Dey for You
Your Provider Dey for You
Your Defender Dey for You
Your Mediator Dey for You
No tell me wetin the devil wan do
Even if E try
E no go See You
Baba God drop……
Nar the Holy Ghost Hold the Umbrella
[CHORUS]
Everywhere you Go
You go dey SELENSE
Baba God dey for you
No dey Kpariwo
Aka Chineke E dey for your Matter
My Brother Carry Go
My Sister Carry Go
Everywhere you Go
You go dey SELENSE
Baba God dey for you
No dey Kpariwo
Aka Chineke E dey for your Matter
My Brother Carry Go
My Sister Carry Go
[Verse 2]
I get the Holy Ghost by Me
I no Dey Shake
When I Speak in Tongues
Them are Run Away
When I Raise my Hands
Them A'JAKPA
Cause them know Say
Me come with Fire Full Force,
Too Tough
Even when they Prove Tough
I Grow Tougher
Speaking in Unknown Tongues
Full Blast
Wetin be the Code Now
Them no Know
Them no Fit Know, Cause
[Pre – Chorus]
My Protector Dey for Me
My Provider Dey for Me
My Defender Dey for Me
My Mediator Dey for Me
No tell me wetin the devil wan do
Even if E try
E no go See You
Baba God drop……
Nar the Holy Ghost Hold the Umbrella
[Chorus]
Everywhere you Go
You go dey SELENSE
Baba God dey for you
No dey Kpariwo
Aka Chineke E dey for your Matter
My Brother Carry Go
My Sister Carry Go
Everywhere you Go
You go dey SELENSE
Baba God dey for you
No dey Kpariwo
Aka Chineke E dey for your Matter
My Brother Carry Go
My Sister Carry Go