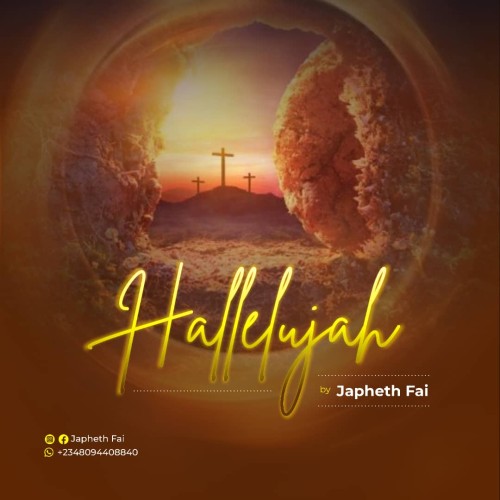 The notable Nigerian Christian music minister "Japheth Fai" who is also a praise worship leader brings to us a song titled "Hallelujah". He is a talented multi instrumentalist and started as a drummer from age 12. He was a member of the award winning dynamic Acapella group called Take 5 and was the Music Director Nigeria Christian Corpers Fellowship (NCCF), Rivers State 2012.
Download Hallelujah by Japheth Fai Mp3, Lyrics & Video
Hallelujah is a song I wrote in 2019, it was birthed from a place of devotion and meditation and the revelation from Luke 23, John 1 and Rev 5. Jesus has paid the price for our freedom and never again will we be slaves to Sin and the devil forever and ever.
Lyrics: Hallelujah by Japheth Fai
Verse 1
To God be the Glory
Great things He has done
So loved He the world that he gave us His Son
Jesus Christ King of Glory
Left His throne came to earth
He was beaten, bruised and stricken
Went to cross just for me.
Chorus
Hallelujah
Hallelujah
Hallelujah Amen (2x)
The dying thief saw the saviour
And proclaimed Him as King
On that day his name was written
Was redeemed and set free
On the cross in the blood.
We were redeemed and set free
From curses, sin and bondage
Hallelujah Christ arose
Chorus
Hallelujah
Hallelujah
Hallelujah Amen (2x) Repeat chorus
Vamp
Hallelujah
Hallelujah
Hallelujah to the Lamb
Hallelujah
To the King whose Kingdom and Reign
Has no end.
(Repeat Vamp 4x)
Social media handle:
Facebook & Instagram: Japheth Fai