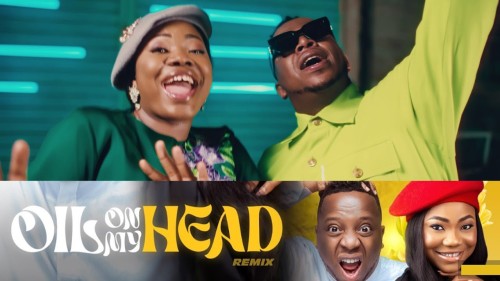 Oil On My Head (Remix) Mp3 Download by Eben Ft. Mercy Chinwo
Experience the soulful sounds of "Eben", a talented musician and renowned global vocalist. The song titled "Oil On My Head (Remix)." is a classic composition accompanied by a stunning music video. Prepare to be captivated and enchanted by this beautiful musical experience that will touch the hearts of listeners of all ages.
Song Details
Download, stream, and share the powerful Mp3 audio of this uplifting song with your friends and family. Let the blessings overflow as you spread the goodness and joy it brings. Allow its melodious tunes and heartfelt lyrics to inspire and comfort those in need. Join hands in creating a chain of blessings by introducing others to this beautiful piece of music. Make a difference in someone's day by brightening it and strengthening their spirit.
Click to Download More Of Eben SONGS Here
Song Lyrics: Oil On My Head (Remix) by Eben
Lord, I just wanna thank you (Ooh eeh)
How could I ever repay you
Jesus, you've taken the pains away from me
And you have given me victory, eh
Everywhere I go blessings follow (follow, follow, follow)
Everything I do, favor follow am o
Kings are coming to my rising
I'm going higher by the grace of God
Oil on my head (oil on my head)
Oil on my head (oil on my head)
Increase in my hands (increase in my hands)
Increase in my hands (increase in my hands)
Speed on my feet (speed on my feet)
Speed on my feet (speed on my feet)
Everywhere I go (everywhere I go)
Everywhere I go (everywhere I go)
That's oil on my head (oil on my head)
I carry favor for head (oil on my head)
Increase in my hands (increase in my hands)
Increase in my hands (increase in my hands)
Speed on my feet (speed on my feet)
Speed on my feet (speed on my feet)
Everywhere I go (everywhere I go)
Everywhere I go (everywhere I go)
This is my season of favor, yes
This is my season of increase
My life is upward and forward
I can never go down, no, no no no no
Everywhere I enter, goodness and mercy dey enter
Everywhere I go now, goodness and mercy dey follow
Kings are coming to my rising
I'm going higher by the grace of god
Oil on my head (oil on my head)
Oil on my head (oil on my head)
Increase in my hands (increase in my hands)
Increase in my hands (increase in my hands)
Speed on my feet (speed on my feet)
Speed on my feet (speed on my feet)
Everywhere I go (everywhere I go)
Everywhere I go (everywhere I go)
I carry favor for head (oil on my head)
Oil on my head (oil on my head)
Increase in my hands (increase in my hands)
Increase in my hands (increase in my hands)
Speed on my feet (speed on my feet)
Speed on my feet (speed on my feet)
Everywhere I go (everywhere I go)
Everywhere I go (everywhere I go)
I carry favor for head
I carry favor for head
Aka nchawa, nchawa, nchawa
Aka nchawa, nchawa
I carry favor for head
I carry favor for head
Aka nchawa, nchawa, nchawa
Aka nchawa, nchawa, nchawa
Everywhere I go blessings follow (follow, follow, follow)
Everything I do, favor follow am o
Kings are coming to my rising
I'm going higher by the grace of God
Oil on my head (oil on my head)
Oil on my head (oil on my head)
Increase in my hands (increase in my hands)
Increase in my hands (increase in my hands)
Speed on my feet (speed on my feet)
Speed on my feet (speed on my feet)
Everywhere I go (everywhere I go)
Everywhere I go (everywhere I go)
I carry oil for head (oil on my head)
Oil dey my head (oil on my head)
Increase in my hands (increase in my hands)
Increase in my hands (increase in my hands)
Speed on my feet (speed on my feet)
Speed on my feet (speed on my feet)
Everywhere I go (everywhere I go)
Everywhere I go (everywhere I go)
I carry favor for head
Aka nchawa, nchawa
I carry, carry oil for head
Nchawa, nchawa, nchawa, nchawa
Speed on my feet
Aka nchawa, nchawa
Everywhere I go
Nchawa, nchawa, nchawa