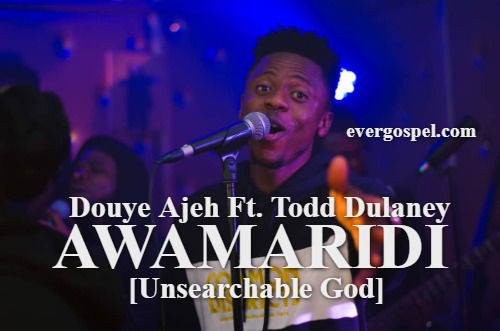 The notable Nigerian Christian music minister "Douye Ajeh" who is also a praise worship leader brings to us a song titled "Awamaridi (Unsearchable God)" featuring Todd Dulaney. This is a song from The Eezee Conceptz singer whose songs has always been a blessing to lives, and here's another power packed tune.
Download Awamaridi (Unsearchable God) by Douye Ajeh Mp3, Lyrics & Video
The song "Awamaridi (Unsearchable God)" is a melody and tune that was written due to inspiration by the Holy Ghost, as this song was made to bless lives and build our thanksgiving spirit. The beautiful lyrics, vocals, energy, and inspirations used in birthing this song will thrill you.
Lyrics: Awamaridi (Unsearchable God) by Douye Ajeh
The melody that you give me
Oh Oh Oh
It's the melody that I'll sing to you
The melody that you give me
Oh Oh Oh
It's the melody that I'll sing to you
Jesus Jesus, I worship you
Jesus Jesus, I bow to you
Jesus Jesus, I worship you
Jesus Jesus, I bow to you
Jesus Jesus, I worship you
Jesus Jesus, I bow to you
Jesus Jesus, I worship you
Jesus Jesus, I bow to you
Let the lifting of my hands
Be a pleasing sacrifice
Let the bowing of my heart
Be a pleasing sacrifice
Awamaridi
You are worthy of my praise
Awamaridi
You are worthy of my praise
Worthy of my praise
Worthy of my praise
Abetilukara bi ajere
Abetilukara bi ajere
Abetilukara bi ajere
Abetilukara bi ajere
Worthy of my praise
Abetilukara bi ajere
Abetilukara bi ajere